Goodwater has extensive experience with Urethane, PVC and Hypolon. Allowing us to the asses the problem and apply the best possible solution!
       
                                          Before                                                          After
If properly repaired, even a large failure won't stop your boat for years to come!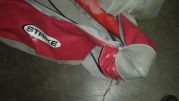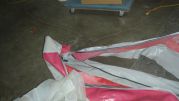 Six years post repair, Vic bumped into it at the Clackamas River Cleanup. Nice to see the boat in good shape!
This SOTAR had a large hole. The boat owner wanted more than a standard patch and urethane coating – she wanted something unique. After some thought and communication, a solution was designed.
Below is a friendly tip from the Boathouse
Please don't try this at home..
Patch over patch and improper technique led to this mess. Correcting the original damage required more labor and cost due to extensive clean up.
After extensive extra time, the original puncture was cleaned up and a new patch was applied.