Logos for Your Inflatable Boat
Commercial Logos
One of the best marketing tools for a commercial outfitter or company is to brand their boats or gear so everyone can see them on the river and on the trailer as they are going down the road. It absolutely has to be done right.
At Goodwater Boat Works, we have the tools and skills necessary to brand any boat.  Whether your boat is made from hypalon, urethane or PVC, we have the ability to make your boat stand out from the rest.
When Phantom Fire Pans needed to brand their new Willy 1.5 Maravia, they trusted Goodwater Boat Works to make them look as good as possible.
This is Phantom's boat after logo installation by Goodwater.
Oregon Rafting Team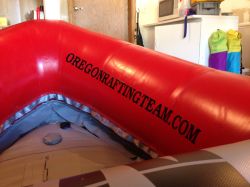 Inside logo's keep your name or sponsors in the Gopro lens.
Personal Logos
When Gary Shoenaker needed a logo done in two days for the Splash for Pink event. He gave Goodwater the job and this is how we responded. In time and on the water.