Vic LeGall is the quintessential Northwest outdoors enthusiast. He owned his own sailboat by age 12 and has enjoyed a lifelong love of boating. He navigates rivers, lakes and streams throughout the northwest Oregon and Southwest Washington — and has a healthy dose of respect for those waterways. At the mention of hydrophobia, he laughed, "Oh, I'm scared of the water, too. That's why you have boats!"
And boats — fixing them, that is — are his business. Being involved with the sporting and river communities, he became more skilled with kayak and inflatable boat repair and for seven years has run his own business, Goodwater Boat Works, repairing hard-shell kayaks and inflatable boats.
Business name: Goodwater Boat Works, by appointment, 503-453-0713; www.GoodWaterBoatWorks.com
Age: 56
Educational/professional background: I grew up in Portland and worked various jobs over 35 years in logistics, warehousing, facilities, emergency response and truck driving. I did attend college for a while but it wasn't for me. I have been around boats and water my entire life. My parents were recreational boaters, and our family was always out on the Willamette, Columbia or the ocean. I had my own sailboat at age 12, and in my late teens, I got into whitewater rafting. It became my main passion.
My years of boating and outdoor recreation progressed to working and becoming more involved in the river community. In 2005, I got laid off from my job, and I began volunteering for someone who was ill and needed help with her whitewater business. While there, I picked up a lot of skills learning the business from manufacturers who came in to the shop. Rather than shipping boats to be repaired at those manufacturers, I would just repair them there at the shop.
The business owner eventually passed away, so I set out to start my own whitewater repair business out of the trunk of my car or at friends' shops and warehouses. My present shop has been in business for seven years, and I work on hard-shell kayaks and inflatable boats. We upcycle parts from discarded boats as much as possible, and for a fee, will recycle discarded parts. We try hard to find uses for parts rather than recycle, though.
I continue to work out of season for several outfitters such as High Desert River Outfitters and Sage Canyon River Co., occasionally going to them to work in their shops if they need help.
Personal/business philosophy: My main reason for starting this business was to be accountable to myself and to have a place where I could apply my vision of integrity.
Most rewarding part of job: Serving the river community, which is where my friends and family are. And I get the added benefit of working in an activity that has been my passion.
The Northwest is a destination, a place that's unique. People move here just to enjoy what we have here. There's not another place like this on earth where there's a metro area so close to whitewater, skiing, boarding and climbing. People are into being healthy and into nature and being eco-conscious, involved and active. Outfitters are larger out on the East Coast and elsewhere, but there is a lot of private boating here, with people out all the time on the hundreds of rivers and thousands of creeks.
Most challenging part of job: What I don't know yet. When you start taking on challenges, there is so much to learn even in a small business.
Best feature of my Clark County community: The small town feel of it.
What would make your community a better place: A little more communication. It would be nice if everyone was on the same page.
What is your favorite travel destination and type: Idaho by train or traveling the Victorverse.
Favorite restaurant/pub/coffee shop/store: Vinny's Pizza in downtown Vancouver for stromboli.
Most enjoyable book/play/movie/arts event in past 12 months: "On the Road," by Jack Kerouac.
Something you'd like to do this year/within five years: Expand the business successfully. There are a lot of things I haven't seen or done here in the Pacific Northwest and things I'd like to do again. Hiking with my daughter, just get out and see some more stuff.
One word to describe yourself: Different.
Person you'd most like to meet: Alan Watts

Vancouver's Goodwater Boat Works still afloat
Three women work to keep boat repair shop going after the founder's death in October 
By Troy Brynelson, Columbian staff writer
Published: December 31, 2017, 6:05 AM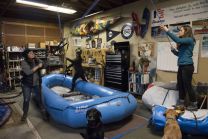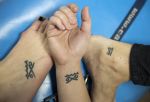 After heaving a balled-up, blue raft into the garage that houses 
Goodwater Boat Works
, Shawn Riley, Ashley LeGall and Erika Waters had to perform a little boat surgery.
The raft had recently been gouged and brought to the trio, the boat repair shop's new owners. Their mission: diagnose the problem, then fix it.
"We'll still have to deflate it, take all the cells out and check the inner bladder and then we'll have to cut (the problem) out like a piece of cancer," said LeGall. "And then get her back on the water."
The work is typical for a Wednesday evening these days. Each of the women balance full-time jobs elsewhere and carve out hours every week for the Vancouver raft repair business. It is their way to memorialize Ashley's father, Victor "Vic" LeGall, whose dying wish in October was for them to keep his business afloat.
Vic LeGall, a Portland native, had been a lifelong lover of the water. He owned a sailboat at age 12 and as a teenager found a passion for whitewater rafting. After 35 years working jobs in logistics, truck driving, warehousing and other occupations, he found work in the boat repair business. He eventually started his own company in his garage, where the first earned dollar is still framed.
Goodwater's name and logo come from symbols used by transients, tipping them off to warm meals, safe places to camp or good water. Vic LeGall was not a transient, but respected the untethered life, the trio said.
"It is kind of a moniker of the river rat lifestyle," said Ashley LeGall. "Who doesn't want to live out of their van and just travel across the country, or South America when it's cold, and just smash rivers all the time? That's the dream."
Two years ago, Vic LeGall was diagnosed with liver cancer. A round of chemotherapy helped; but the cancer returned viciously. After he was taken off the liver transplant list this summer, he took the three women out and told them he hoped they would take over when it was time. He died shortly thereafter.
It has been two months since the trio have become owners. Each work full-time and carve out 15 to 20 hours weekly for Goodwater. Ashley LeGall, who lives in Hillsboro, Ore., and works at Nike, said staying busy has helped.
"That's part of why I threw myself into the shop, to stay busy as soon as I could," she said. "Idle hands drive me nuts."
Boat repair remains the name of the game. The women are trained already, but not yet at Vic LeGall's level, they said, who could diagnose a hamstrung boat at nearly a glance.
"He could look at a boat and say, 'Oh, that's such-and-such combination of PVC or Hypalon (material),' " Ashley LeGall, 30, said. "I still need to sit and do research."
Besides learning the tricks of the trade, honoring Vic LeGall is their first goal. That means not only keeping the business alive and well, but also being compassionate members of the regional rafting community.
"That was a big part of Victor," said Riley, 30. "His goal was community all the time. To continue providing all the support and help for the community I think is a huge goal for us as well."
Still, the business could do well in the hands of the next generation. Waters, Riley and Ashley LeGall aren't sure about Goodwater's commercial prospects, but they will market themselves more strongly at rafting events and broadcast themselves on social media.
At the end of the day, the trio said the business keeps them together. When they aren't planning rafting trips, they said they can count on each other to show up at the garage during the week, start repairing a raft and then have a beer.
"The three of us have become probably closer to family than just friends anymore," said Riley. "I couldn't imagine two chicks I'd rather work with. It's made all the difference."