Unfortunately, I-Beams can detach from self bailing floors. The causes for this problem are many, but over inflation and rotting floor interior are common. The best fix for this problem is good boat maintenance. Of course if your reading this that's probably not helping your mood...
Goodwater looks at these repairs on a case by case basis. It's often less expensive to replace the entire floor than to repair it. Now and then, an I-Beam comes in that is cost effective to repair and we are happy to get the job done.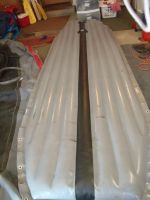 Left (eeeek) and above (repaired) are images of a floor with a blown I-Beam brought in by High Desert River Outfitters, a legendary local whitewater company.