Goodwater Boat Works
Testimonials
Goodwater Boat Works is an authorized service center for Maravia, NRS and Aire boats.

 
Where whitewater boaters go for inflatable boat repairs and upgrades.
Welcome to Goodwater Boat works, the premier inflatable boat repair and maintenance shop in the northwest. We are located in the Portland area and service all of Oregon and Washington for all the top brands of inflatable kayaks, rafts and inflatable fishing boats.
We specialize in providing the best possible professional work while maintaining low cost and quick turn around times.
Goodwater offers free phone consultations to renew your deteriorating inflatable into a new air tight boat. We service all the top brand boats and charge affordable rates in order to bring your boat back to its full potential.
We repair all inflatables and all types of Hypalon, PVC, Nylon and Urethane boats to extend the lifetime integrity of your boat.
Minor repairs include:  repair of pinhole leaks to small tears, hardware replacements of D-rings, valves, foot cups and carry handle installation.
Major repairs include baffles and bulk heads, I-beam, seam failure, floors replacement, tears and holes, wear pad replacement.
We offer urethane protective coating, patch work, detail work, logos, and all types of adhesives.
We will give you a free consultation for repairs and can offer coordination of other boating retailers and manufacturers to optimize your boats performance.
Contact Goodwater Boat Works to schedule your inflatable boat repair or upgrade.
Demo Boats at the Upper Clackamas Whitewater Festival
You can demo a boat at the Upper Clackamas Whitewater Festival through Goodwater Boat Works! We will have Maravia, HD Inflatables, Aire and NRS boats available for you to try out. Sign up for a boat demo and we will do our best to have it available for you to demo. We provide the rubber monkeys and shuttle to make it easy for you.
---
Hard Shell Kayak Recycling

Goodwater Boat Works recycles and re-purposes hard shell kayaks. When your hard shell kayak reaches the end of its life, you now have a place to take your kayak where it will be recycled and all of the usable parts will be upcycled and re-purposed.
---
Maravia Boats

Goodwater Boat Works is proud to announce we are now the area representative and repair facility for Maravia boats. If you are interested in purchasing a Maravia raft or cat boat, we have a selection available for demo. Contact Ashley for more information.
---
High Desert River Outfitters - HDRO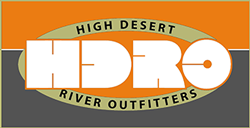 Goodwater Boat Works is now the factory authorized repair facility for HD Inflatables, the in-house boat manufacturer for High Desert River Outfitters.